Abstract
An SSB radio for the HF bands will be presented. Featuring 12 to 20 Watts of output power (depending on DC supply), full DDS frequency generation, covering 6 major frequency bands (1.8, 3.5, 7, 14, 21 and 28 MHz) within the short wave amateur radio spectrum. The rig also features colored LCD and front panel backlight.
Content
Project description
In this upcoming series of articles a relatively complex project will be discussed. It is some sort of "remake" of my last multi-band QRP SSB transceiver that has been entitled the "Gimme Five"-Transceiver and that was finished in 2015. "5" in that case stands for the 5 major (i. e. "classical") RF bands: 80m, 40, 20m, 15m and 10m the radio covered. This new project (called the "Midi6", because it is not a "Micro" or a "Mini" transceiver 😉 ) covers one band more, the range has been extended to 160m.
The basic features of this construction are:
Colored LCD (CP11003) with resolution 240×320 pixels,
Microcontroller ATMega128,
Single conversion superhet receiver, interfrequency 9 MHz,
5 stage high quality transmitter, Pout=20W (max. at 15V DC) , featuring a microcontroller driven regulated gain stage to ensure absolute constant output on all bands,
Integrated 2-tone oscillator for testing and tuning,
Front panel full backlight.
"Experimental radio" means that there is enough space inside the cabinet to change boards and test new ideas in the same space. Also certain components like the SSB-filter have been  made as "plug-in" components to enable quick change of the part. Also the connector between the various transmitter and receiver stages have been done by "jumpers" and header strips so that resistors and capacitors can be changed quickly to experiment with other values.
The radio has been realized with standard veroboards (0.1″ pitch), SMD components and been put into a homemade aluminum cabinet using 2 layer sandwich construction inside the cabinet.
Here a snapshot of the operational transceiver. Cabinet size, by the way, is 7.5 x 16.5 x  19.5 centimeters (2.95 x 6.5 x 7.68 inches). These dimensions are in the range of other multiband QRP transceivers like the Elecraft K2 (larger) or the Icom IC703 (a bit smaller).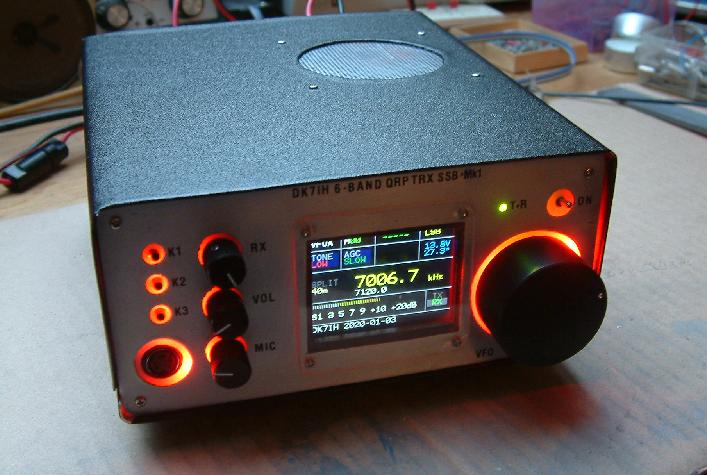 Stay tuned for the next article(s)!
73 de Peter (DK7IH)