This unit is a very simple one. I did not want to use more relays than necessary. The consequence was to save at least the one commonly used in the transmit-receive switch unit. Here 2 p-channel MOSFETs do the job: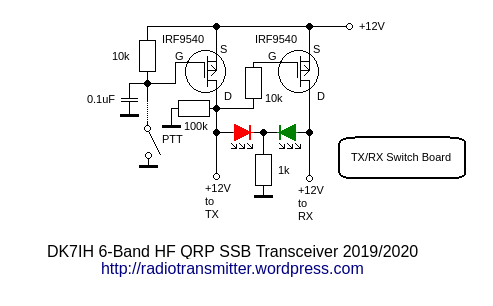 Hint: The "PTT" in the radio here leads to a PIN of the MUC switching the transmitter on. For general purposes a "PTT" has been drawn into the schematic.
Function: When Gate (G) is "hi" (i. e. close to VDD) the S/D channel goes to nearly infinite ohms. Resulting current is 0A apart from some uA leakage current.
When S is pulled to GND, or, to be more exact, some volts lower than VDD the S/D channels switches to a value very close to 0 ohms. Pushing PTT pulls G of the left MOSFET to GND thus switching on the transmitter. G of the right MOSFET is now pulled to VDD (via 10k) which means that the right MOSFET becomes non-conductive and receiver is turned of. A dual-LED (red and green) in the front panel shows the current status.
Vy 73 de Peter