My transceivers usually don't use any ready-made cabinets. To save space and have full and easy access to all parts of the radio during construction, adjusting, assessment and repair I prefer an open 2-layer sandwich method.
There usually is one centered frame that is fixed using M3 or M4 bolts to the front panel carrier and the rear wall or carrier (if the rear wall consists of a more complex structure):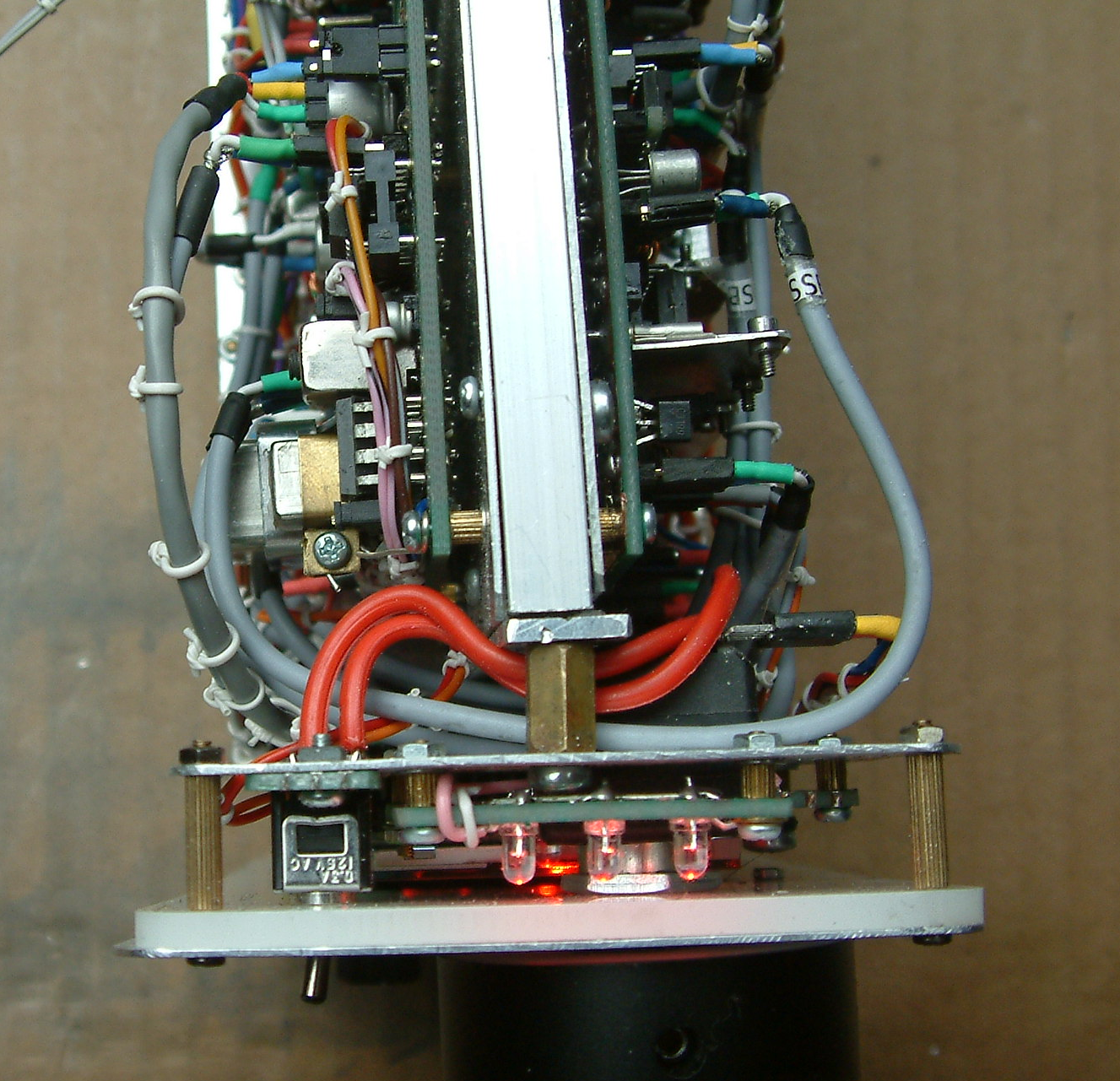 The center carrier here consists of 4 aluminum bars that have quadratic cross section (7mm edge length) and are building up a rectangle. This a rugged basis for 2 aluminum sheets (0.8mm thickness). These aluminum sheets are fixed with bolts (M2 winding) fitting into screw threads inside the bars that have been cut in there before.
The single veroboards are bolted with spacers using M2 screw threads onto the aluminum sheets. These spacers are available from Chinese vendors on the internet and have a fairly low price. They have become my favorite mechanical aids when building compact radios. For higher demands concerning force I use the same devices in M3 or even M4.
The front and rear carriers are bolted into this center frame and support the front and rear panel: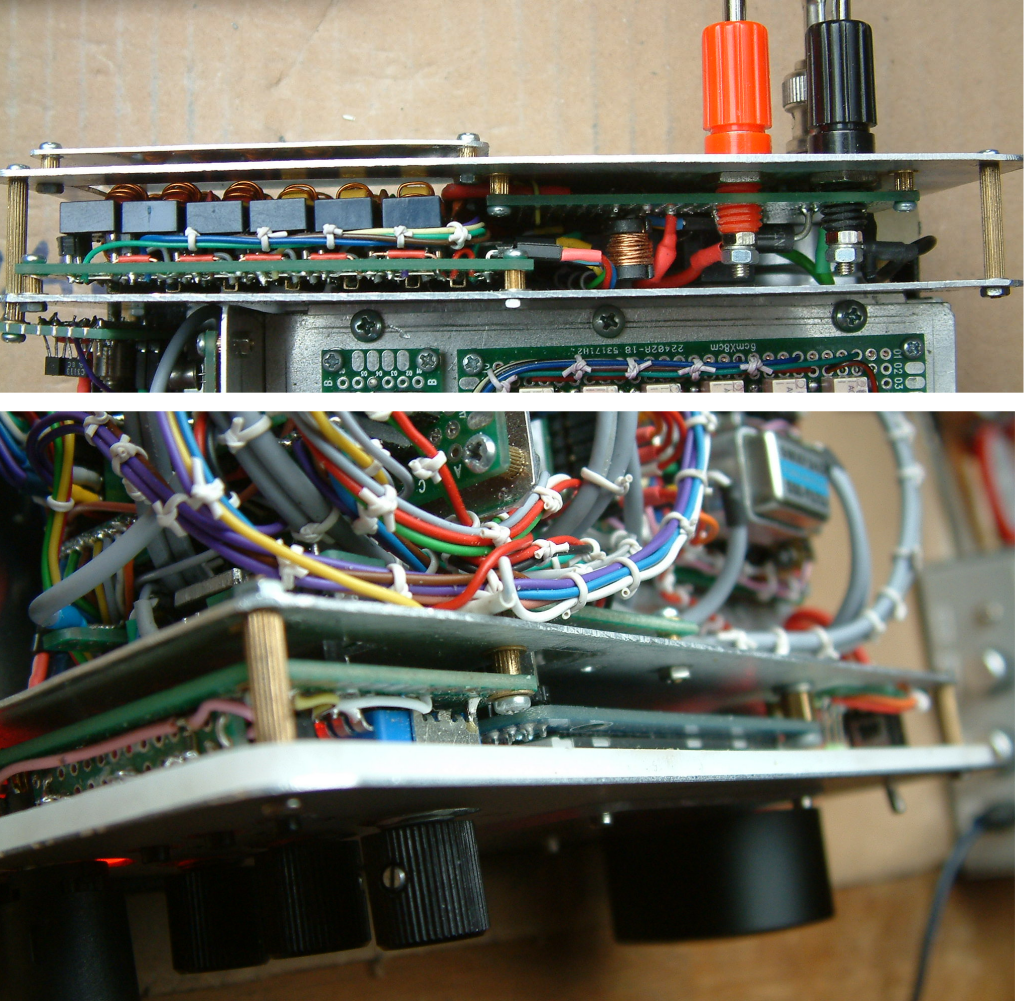 At the top of the picture you can see the final LPF and the DC input for the transceiver mounted to the rear of the radio.
The front panel is made of an aluminum sheet metal (again 0.8mm thick) that has cutouts for the LCD, the controls, the push-buttons and the microphone jack.
The front panel light diffuser is made of a part of white translucent plastic bought from a shop that distributes material for architects. 3 strips of LEDs are mounted there also using the M2 spacers (3mm length).
The whole body then is placed into an outer cabinet that is composed of 2 halves of aluminum that have been bent into the correct form to fit the shape of front and rear panel.
The lower one has a height of only 1.5 centimeters. To connect the upper half on each side a strip of aluminum (2mm thickness) is bolted to the aluminum sheet close to the edge that carries screw threads to fix the upper and the lower half together to close the cabinet. These "sidebars" also affect the stability of the relatively thin cabinet in a positive way.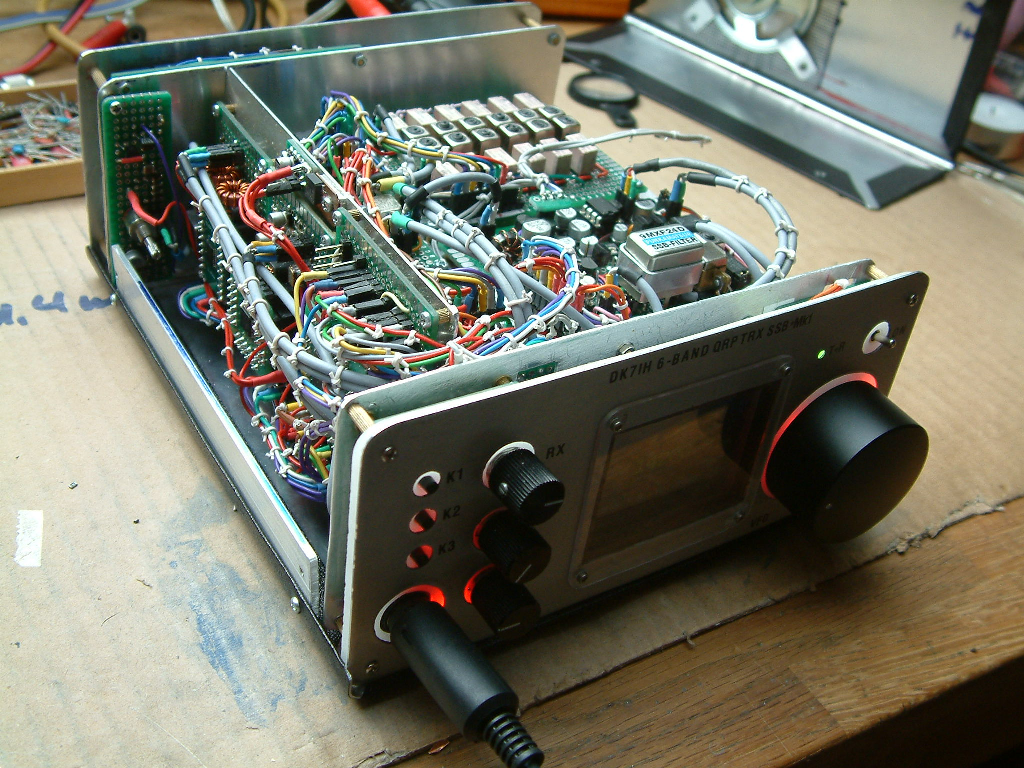 To avoid the interior section slipping out of the closed cabinet the two "sidebars" are cut into an appropriate length so that they "block" the inside from slipping out either to the front or the rear side.
Using aluminum has two major advantages in my point of view: First it is easy to be processed (in contrast for example when using metal sheets made of steel) and it is very lightweight what I prefer because I use my radios on frequent travel activities.
Vy 73 de Peter