When cleaning up my shack I found one of those very cheap China made DDS modules containing an AD9850 synthesizer. "Let's do something with it!" was the decision. I connected an ATMega328 to it and wrote a very short piece of software to sweep the frequency between two edging values. This signal is sent thru a filter to get the respective response curve without taking great effort: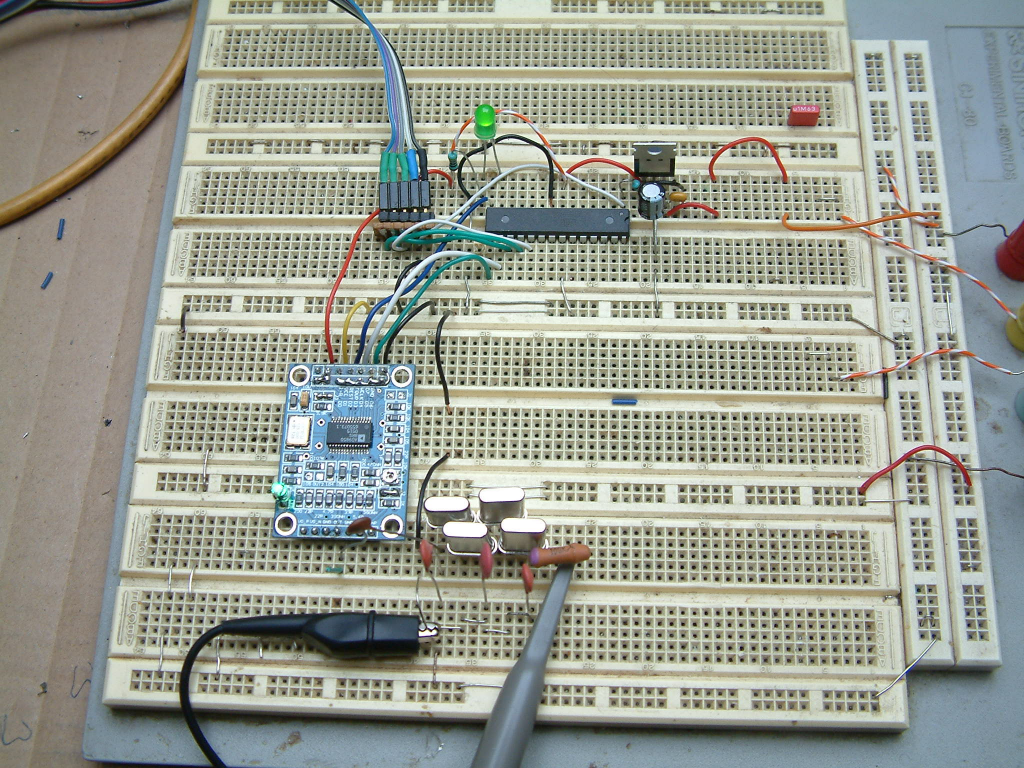 I connected the output of the DDS to a ladder filter I wanted to test. On my spectrum analyzer (oldie but goldie HP8558B) I got the expected outcome. But then I started thinking of those amateurs who are not the proud owners of such an instrument. So I connected the filter output to my RIGOL DS1054Z digitial scope. After some tries I was able to synchronize the DDS' sweep time with the horizontal sweep of the scope an got the filter curve on the screen: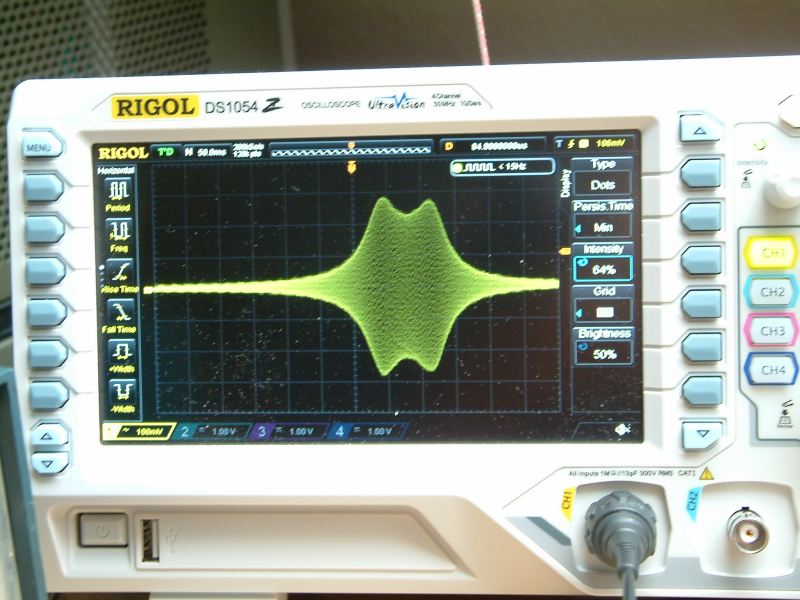 When you put horizontal sweep rate to a very low value you will finaly see the filter response curve. This is not very exact due to the lack of frequency readout on the scope's x axis but it is OK if you want to check the flatness of a filter. And it is quickly done.
But due to my fascination for exact things I will trigger the scope by the microcontroller so that I can deduce a unit of khz per cm on my scope screen.
73 and thanks for watching my blog!
Peter
The software:

/*****************************************************************/
 /* Frequency sweeper with ATMega8 + AD9850 */
 /* ************************************************************ */
 /* Mikrocontroller: ATMEL AVR ATmega328p, 8 MHz */
 /* */
 /* Compiler: GCC (GNU AVR C-Compiler) */
 /* Autor: Peter Rachow */
 /* Letzte Aenderung: 16.11.2016 */
 /*****************************************************************/


#include <inttypes.h> 




#include <stdio.h> 




#include <stdlib.h> 




#include <math.h> 




 




#include <avr/io.h> 




#include <avr/interrupt.h> 




#include <avr/sleep.h> 




#include <avr/eeprom.h> 




#include <util/delay.h>

#define F_CPU 8000000

int main(void);

/*******************/
 // SPI
 /*******************/
 //Port usage
 //FQ_UD: PB0 (1) blue
 //SDATA: PB1 (2) green
 //W_CLK: PB2 (4) white
 //RESET AD9850 PD7 yellow

void set_frequency_ad9850(unsigned long);

//************
 // SPI
 //************

//Set AD9850 to desired frequency
 void set_frequency_ad9850(unsigned long fx)
 {
 unsigned long clk = 125000000;
 unsigned long x = 1;
 int t1;

double fword0;
 unsigned long fword1;

fword0 = (double) fx / clk * 4294967296;
 fword1 = (unsigned long) fword0;

//Send 32 frequency bits + 8 additional bits to DDS
 //Start sequence
 PORTB &= ~(1); //FQ_UD lo => Bit PD0 = 0

for(t1 = 0; t1 < 32; t1++)
 {
 if(fword1 & x << t1)
 {
 PORTB |= 2; //SDATA Bit PB1 setzen
 }
 else
 {
 PORTB &= ~(2); //SDATA Bit PB1 löschen
 }

//W_CLK hi
 PORTB |= 4; //Bit PB2 setzen

//W_CLK lo
 PORTB &= ~(4); //Bit PB2 löschen
 }

//W32...W39 all bits are 0!
 PORTB &= ~(2); //SDATA Bit PB1 löschen
 for(t1 = 0; t1 Bit PD0 = 1

}

int main()
 {

unsigned long fx0 = 10000000;
 int swing_f = 10000;
 int delta_f = 5;
 unsigned long fx1 = fx0 - swing_f;
 unsigned long fx2 = fx0 + swing_f;
 unsigned long f;

DDRB = 0xFF; //SPI (PB0..PB2)
 DDRD = 128;

PORTD |= 128; //Bit PD7 set
 _delay_ms(1000); //wait for > 20ns i. e. 1ms minimum time with _delay_s()
 PORTD &= ~(128); //Bit PD7 erase

for(;;)
 {
 for(f = fx1; f 20ns i. e. 1ms minimum time with _delay_s()
 PORTD &= ~(128); //Bit PD7 erase

}

return 0;
 }