Sorry for having deferred the description of the transmitter. The recent days I have been concerned with a new frequency layout for the transceiver. I found that the 17m-band could be an interesting topic because when tuning on internet based SDR pages the last days I saw many strong signals appearing. This might be due to the fact that sun is higher now in the northern hemisphere and conditions will even be better with solar cycle #25 now about being to commence.
Based on these considerations I changed the band plan for the 5-band radio: 10m band has been removed, instead 17m has been added.
The new band layout now is 80m-40m-20m-17m-15m.
Here are the respective values for coils installed into the band pass filters (BPF) and the layout for the final low pass filter (LPF).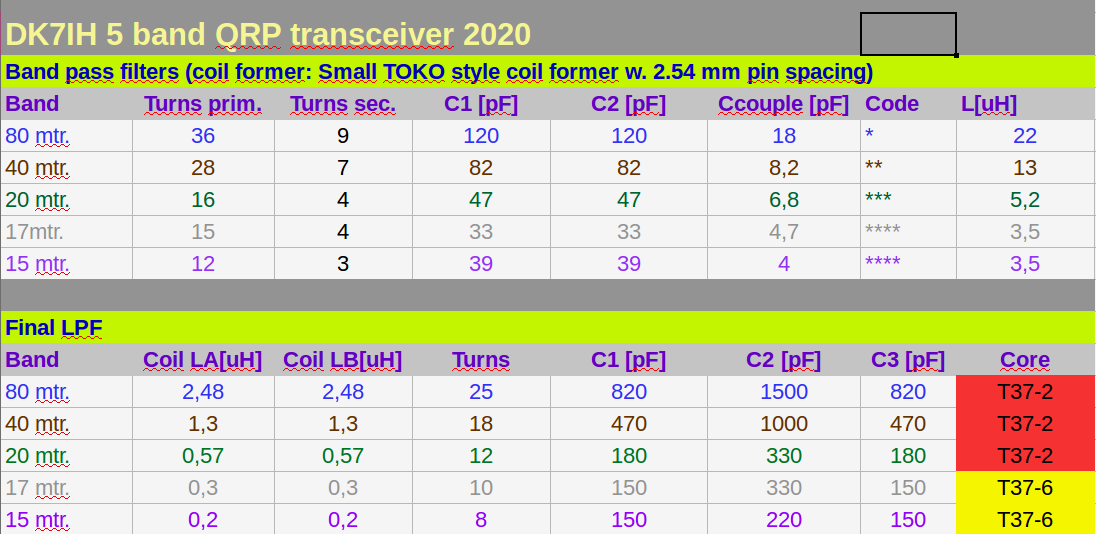 Hint: Inductance for the BPF coils have been measured with (probably) excess error ratio. Thus calculations are resulting in a different resonant frequency for the LCs when using Thompson's formula!
Currently some additional tests with the the transmitter are pending, but full description will follow the next days. So, stay tuned! 😉
73 de Peter (DK7IH)