This 6-band transceiver has several stages where band switching will occur:
The band pass filter section (shared by transmitter and receiver)
A first section of low pass filters (LPF) between the driver stage and the final amplifier
A second section of LPFs at the end of the rf power amplifier chain.
To keep the circuit simple and to save controller output ports I have decided to code the band number (0 for 160m up to 5 for 10m) in binary and send this pattern to pins PA0:PA2 of the MUC. This is pattern is lead to a BCD to Decimal Decoder integrated circuit (HCF4028) that converts the binary pattern to a set of individual output lines. The respective part of the truth table used is: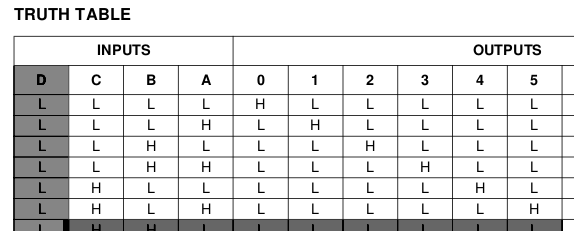 The 6 lines are fed into an ULN2003 integrated circuit, which is a relay and motor driver.
The outputs of this driver are switched against GND thus the relay coils have to be supplied with VDD (+12V in this case). The IC also contains a clamp diode for each output. That makes the circuit fairly simple. The full circuit of this unit: