by Peter Rachow (DK7IH)    => Zur deutschen Version dieses Artikels
---
Notice:I have fully redesigned this transceiver, please click here!
---
I have really been satisfied with my last QRP SSB rig. It performs very fine. But I wanted a transceiver still a little bit smaller. And it should be easier to set up the rig if you are outside to make quick QSOs. This and the fact that I came across a larger bunch of 9.832 MHz crystals which I thought could be an ideal basis for a ladder filter made me plan an even more compact rig for 20 m compared to the last one. Particularly for portable operation on holiday or when I am outdoor with my bicycle or hiking, I wanted a self-containing transceiver with on-board battery. So here it is…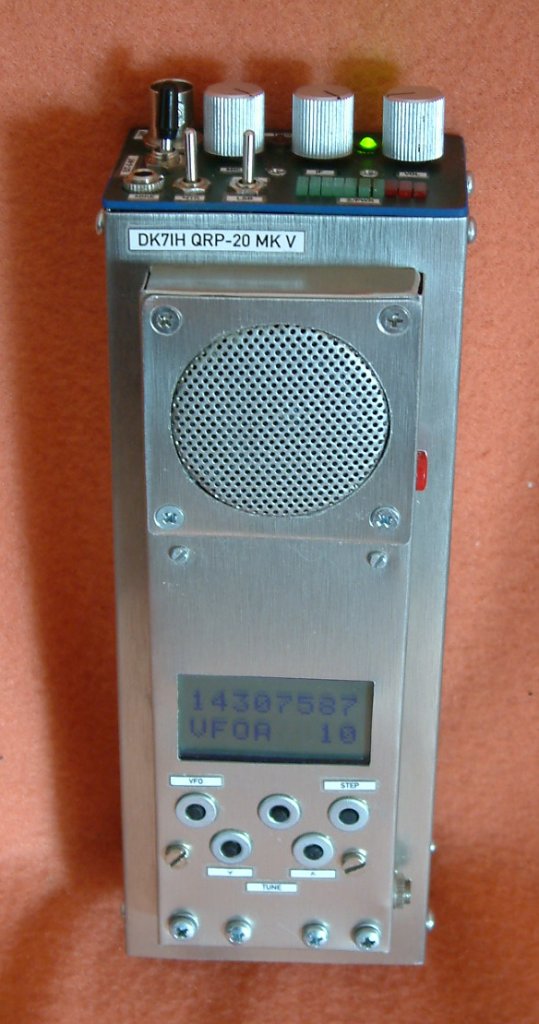 Features:
Monoband SSB-Transceiver for 20 Meters/14 MHz.
Output: 4 to 5 Watts PEP
Frequency generation: DDS with AD9835 and ATMega8, LCD 2×8 Characters.
Transmitter: SSB Modulator for USB or LSB: NE602/SA612, 4-Pole-Ladder-Filter, TX-Mixer, NE602/SA612, Power amplifer: 3 stages, push-pull-final with 2 x 2SC2078.
Receiver: Singe conversion superhet, RF preamp with Dual-Gate MOSFET, RX-Mixer with NE602/SA612, 4-Pole-Ladder-Filter, Passive product detector, AF preamp, AF final amp with LM386. (See improved AGC circuit here!)
Built-in battery pack, also connectable to external power supply, 10-LED-bargraph-display for S and RF strength readout.
The size is about that of those older CB handhelds from the late 70s. It is abt. 18 cm long, 7 cm wide and 4.5 cm high. But don' ask me for weight. 😉
The transceiver has, as mentioned before, a power output of 4 to 5 watts rf pep which I found sufficient for making contacts worldwide. Transmit power mainly depends  on the respective power supply you use. The radio can be run either on an integrated 12 V dc rechargeable battery (1Ah, composed of 10 AAA cells) or by connecting an external dc power supply of up to 14 volts. A three-position switch allows the user to select either internal or external power supply or completely switch the rig off.
Thus the little radio is very versatile for all kinds of portable operation. The antenna is connected via a standard bnc connector. I also designed a rod antenna that you can use if there is no possibility to erect a larger aerial. I have to admit that having a qso with the small handheld antenna ist a pretty ambitious. 😉 But in recent "The King of Spain"-Contest I could work with the rod antenna from a high place over a dozen stations.
With my delta loop the rig is absolutely amazing. During the recent weeks I worked (among others) the following prefixes:
SM, EA, F, 9A, 4X, LZ, I, SV9, J79, J49, JW9, S56, CY0, P40, G, YO, OH, W1, UA9, TA, PA, S57, GU, EK3, OX

And this all was done, except from the contact to P40FN, with 4 to 5 watts pep. Only for the QSO to Aruba I had to use the 60 watt linear amplifier. The pile-up was too hard. 😉
Basic design ideas:
To make the rig not too bulky I used a "sandwich construction" in an aluminium frame. The radio mainly consists of three layers:
The RF and AF unit (mainboard)
The battery-, AGC/Meter- and switching unit
The display and push-button unit
The RF unit:

On board here you can find the DDS-VFO, the whole receiver and transmitter circuits (including power amp), SSB modulator and demodulator.
The battery and AGC/Meter and switching unit: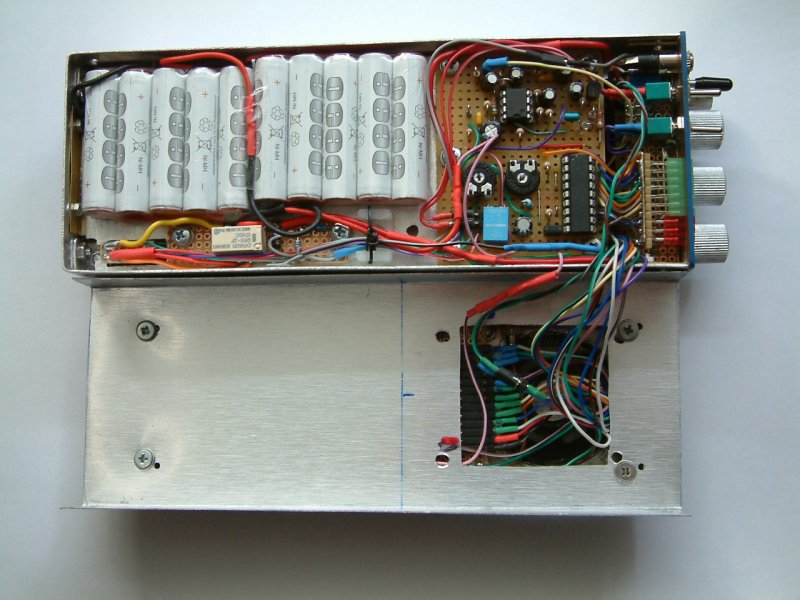 This board is equipped with a set of 10 rechargeable batteries (1.2 volts each), the relay for transmit/receive switching and the LED-S/RF-meter circuit (LM3915) plus the AGC device. Above this section there is another layer which keeps the 2×8 line LCD, the up/down control switches for tuning (there is no rotator tuning knob), a button for setting the tuning frequency step, selecting the VFO (4 VFOs and 2 split VFOs are software defined) etc. It is  integrated in an extra housing mounted on top of the cabinet an connected via some cables. The controls are simple push-buttons. With one of these the microcontroller can be set into sleepmode to reduce the radio's noise down to a minimum. The 1 inch loudspeaker is also mounted in here.
The circuitry itself is standard QRP design with the "usual suspects". See the schematic to learn more: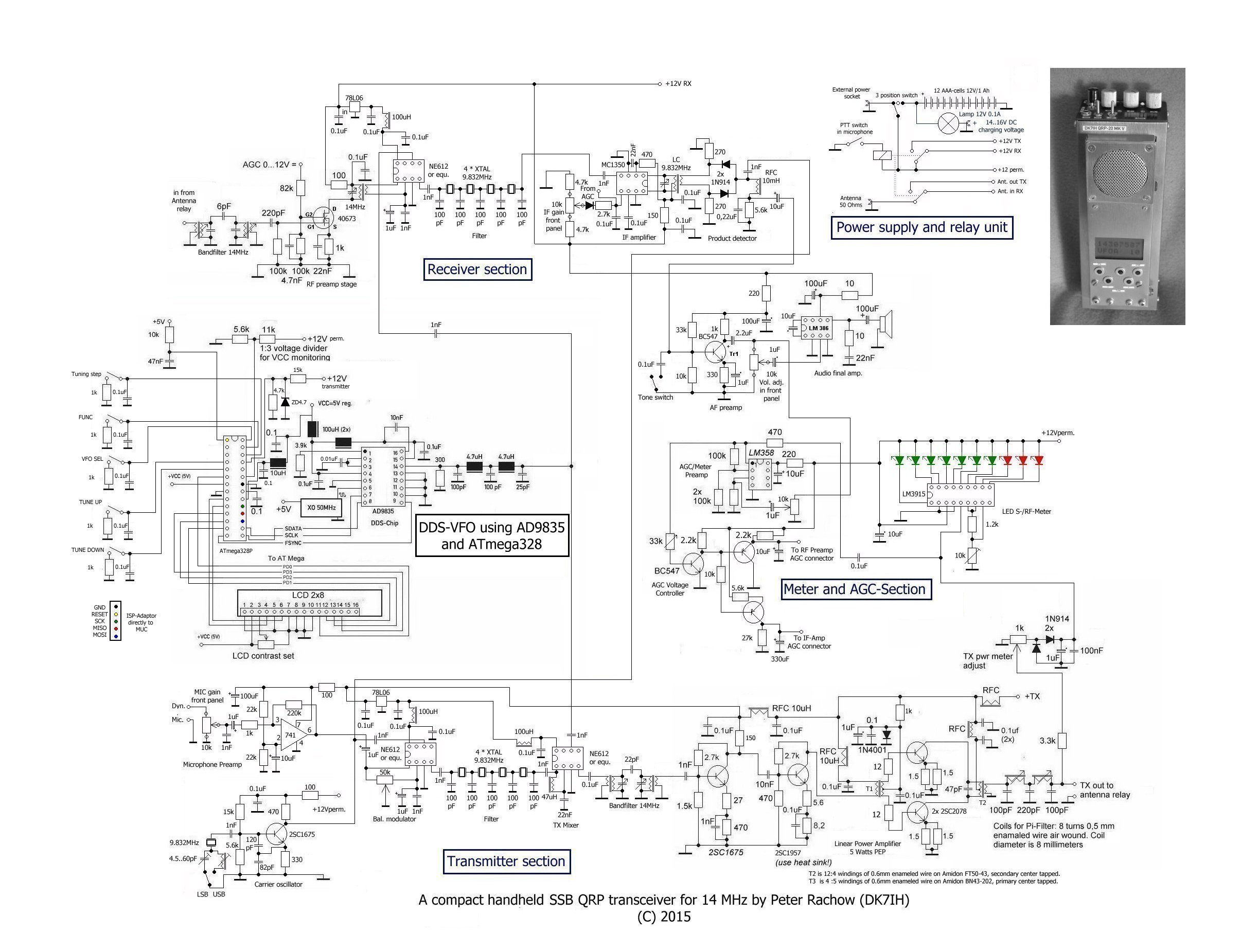 The front panel looks like this: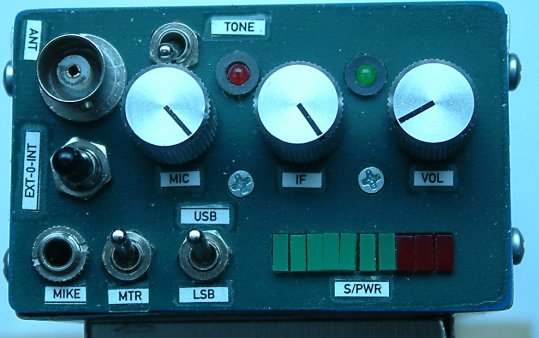 Details are to be discussed in my next pageing on this blog. Thanks for watching! 73 de Peter (DK7IH)
(C) 2015 Peter Rachow